Posted by : RunnerBecky
Tuesday, April 23, 2013
I got up this morning and logged 6.6 miles on the loop of the local college campus in my husband's hometown. (We made an impromptu visit yesterday evening to visit his sick grandpa.) Since I am running in the Country Music Half Marathon in Nashville on Saturday, I figured a little extra hill work was in order this morning.
It is literally one hill after another with VERY.... VERY little areas of flat ground. I managed a 9:15 mile pace so I was pretty pleased. My legs are feeling it though and I teach Zumba this afternoon. Suck it up, right?
On a funny and seriously random note, we managed to safely get a calf back into the fence after he made a daring escape into the tomato bed. You can't make this stuff up, folks. I am in the country! This is just what we are working with. The cowgirl in me saved the day for sure.
Confession, I had a Happy Meal last night. SHAME! Go ahead and scold me! Our impromptu road trip resulted in the fastest dinner possible.
Have you seen the cute little Happy Meal fries containers? Where have I been?
They are 100 calories but I could easily eat 4 boxes! :) I didn't, nor did I eat the apple pie in the background although I have a sweet tooth like none other.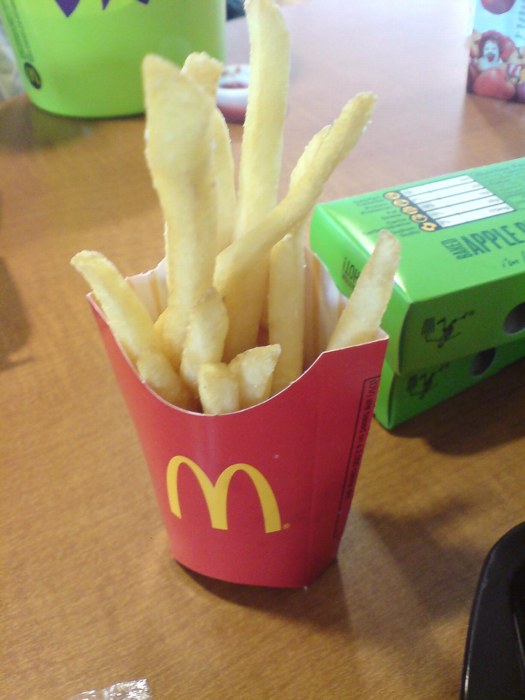 What is your biggest weakness when it comes to food?
.......................................................
I have only a few more days to raise $350.00 more dollars for the Alzheimer's Association. If you are able, please DONATE HERE!
A huge THANK YOU to those of you who have graciously supported me already. I am beyond grateful!
The Hills Are Alive! (My legs, not so much)