Posted by : RunnerBecky
Wednesday, April 24, 2013
It is RACE TIME and I am so excited about the weekend ahead. We leave tomorrow afternoon for Nashville. Stoked! Beyond stoked!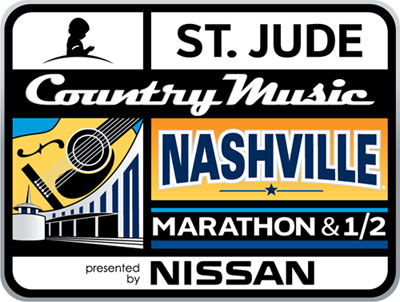 First stop is a John Mayer concert in Tuscaloosa, AL and then we'll head to Nashville Friday morning. I'll hit up the expo where I hope to see Kara Goucher who tweeted she'd be there on Friday as well. I'll totally be star struck and almost fainted when my husband asked, "Who is Kara Goucher?"
Who's going to Nashville for @CountryMusic262 ? Come hang with me at the expo Friday from 3-5!
Biggest Loser winner Danni Allen will be running her first half marathon with us this weekend too.
I also got this awesome shirt made up for race day. Nothing like a little free advertising as 30,000 runners pass me. :) Just kidding, hopefully I'll pass a few along the way. Slow and steady wins the race, right?
I have a busy day tomorrow and a 2 Zumba classes to teach before we hit the road. I got to packing this evening after church and tried to get all my ducks in a row. Little man is staying with his grandparents so all his things have to be packed too. Lots to get ready and I always, I mean always feel like I have forgotten something.
Hopefully this is all I need! Lots of options because you know how often we women change our minds. I always over pack for that very reason.
Since this is our first "vacation" without little man we are excited to get away and eat lots of yummy food and take in Nashville.
Can you believe I have never been? I was born and raised in NW Florida and have been to 5 of the 7 continents ( I'll make it to Africa and possibly Antarctica one of these days) but have never ventured to Nashville.
The race is definitely a huge priority. You know you are a runner when you find a race on vacation, right?
Our game plan is to hit up the expo and a few sites on Friday and have an early evening since I'll have mega race day jitters for Saturday. 60% chance of rain and temps in the 60s. Could possibly be a miserable run.
Here is my RACE DAY garb!
I managed to fit it all in two bags. Go me!
I am so stinking nervous and excited. I am running solo for the first time, but my husband will be there as a spectator. He has missed my last 4 races!
I'm in Corral 21. I have no idea what that means. Ha! I predicted my time to be about 2:20 but I finished my last half in 1:57 two weeks ago. I am hoping to just enjoy this one since I nailed my PR last race. No pressure. Just fun!
The mega type A personality that I am has been printing off all of the necessary race day information. I have to know all of the details. Every single one! I've got it all lined up. At least, I think I do. Oh well! Let's do this!
Have you ever been to Nashville?
Where should we eat? (Food is my top priority here!)
What are a few things we don't need to miss?