Posted by : RunnerBecky
Wednesday, March 20, 2013
Black Bean and Corn Quesadillas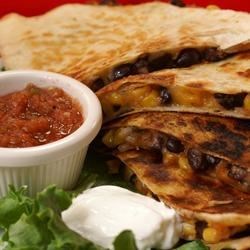 Photo Source: All Recipes
You don't have to be a vegetarian to enjoy this meat-free meal. I love cooking with black beans because they add lots of protein and I think they are just delicious.
Ingredients:
3 tablespoons finely chopped onion
1 (15.5) can of black beans, drained and rinsed
1 (10 ounce) can of whole kernel corn, drained
1/4 teaspoon red pepper flakes
8 (8 inch) whole wheat (or flour) tortillas
1 1/2 cups shredded Monterey Jack cheese, divided
Directions
- Heat olive oil in a large saucepan over medium heat.
- Stir in onion, and cook until softened (2 minutes or so).
- Stir in beans and corn, then add the brown sugar, salsa, and pepper flakes.
- Mix well. Cook until heated through (3 minutes or so).
- Melt 2 tablespoons of the butter in a large skillet over medium heat.
- Place a tortilla in the skillet, sprinkle evenly with cheese, and then top with
- Place another tortilla on top, cook until nice and golden, then flip and cook
- Repeat with remaining tortillas and filling.
FYI - If you are a sour cream love like ME a healthier option is replacing your sour cream with plain Greek Yogurt. You'll NEVER know the difference... or miss the fat :)
Here is a great chart of other things Greek Yogurt can be a substitute for in recipes:
Thanks, CHOBANI!
"What's for dinner?" Wednesday